Not so long ago manufacture of artificial dental crowns required a lot of patients' time and patience, as well as specialists' particular accuracy and craftsmanship.
Digital technologies have solved many problems in dentistry.
Now it's possible to receive a dental prosthesis within one day, avoiding all discomfort feelings that have been present when impressions were manufactured by means of traditional methods.
Moreover, now patients have obtained a possibility to watch how a specialist models a crown or the entire dental bridge structures, and then a dental milling machine mills it automatically from a ceramic block.
Production of digital impression of teeth
Modern equipment allows dentists to create a computer model of oral cavity, reproducing its smallest details.
Therefore, it's easier to conduct a treatment and get the planned results.
There are several methods of taking of optical impressions of teeth:
* oral cavity scanning by means of intraoral camera;;
* use of the special fixed laser scanner.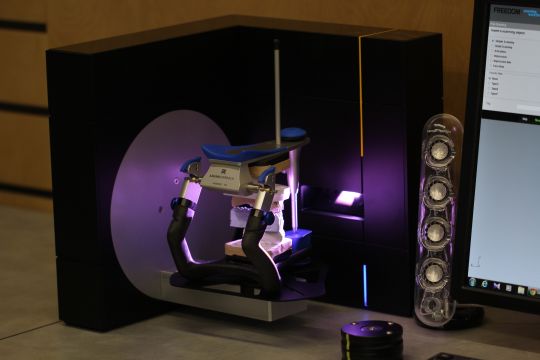 Thanks to the use of digital technologies in dentistry the three-dimensional scanning is preformed in real time.
The obtained image is projected on the touchscreen within several seconds.
A dentist can rotate an image by any angle and enlarge it, that allows to detect all the problems of dentition and create the ideal restoration - crowns, onlays, veneers, and bridge prostheses.
When taking an optical impression of teeth possibilities of occurrence of inaccuracy due to displacement of retraction thread and impression material from grove, guy lines, blood leaks, associated with the traditional method, are minimized.
The capacity to selectively focus on separate segments allows to create a clear image of distal surfaces of jaws, as well as to model the whole arc of teeth, which is very comfortable when creating a complex indirect dental prosthetic structure.
If the quality of the obtained model is unsatisfying, scanning can be easily repeated.
Advantages of digital impressions of teeth
The use of intraoral scanner saves patients from unpleasant feelings that are caused by traditional impression materials.
Surface of intraoral camera is disinfected by special means; an individual disposable plastic bag can be used as well.
Modern systems do not require the use of powder of titanium dioxide.
The rate of taking of optical impressions of teeth increases thanks to the fact that there is no more need to make fitting of impression spoon, mix the impression materials and wait for them to congeal.
Analysis of three-dimensional model is being carried out very quickly.
It allows to evaluate the prepared teeth and control the way of conducting of any restoration that facilitates the further work and guarantees the best result.
Digital impression of teeth doesn't occupy a lot of space; as opposed to gypsum model, it is impossible to break it.
Time and expanses to its transportation to the dental laboratory are saved as well – data transfer via internet takes a few minutes.
While the use of CAD/CAM technology allows to create dental prostheses, veneers and crowns even without leaving a dentist office.
Three-dimensional models do not require a room for record office, as the entire information is stored on computer and can be easily find in database.
Dentistry and Esthetic Center "Dentist&Co" manufactures optical impressions of teeth on the modern equipment, that's why our patients get the perfect result of a beautiful smile quickly and painlessly.